The first time we spoke to up and comer Country artist Brett Kissel was back in January of this year (see our Brett Kissel interview). At that time Brett had just signed with Warner, had just released his new single Started with a Song, which became the most added song at Canadian country radio in its first week, surpassing a record set by Taylor Swift, and was gearing up for a tour co-headlining with One More Girl.
Fast forward a few months and Brett was at the CCMA's accepting awards for Interactive Artist of the Year and Video of the Year for his 3, 2, 1 video. (Brett led the pack with a resounding 8 CCMA nominations). We caught up to Brett for a brief chat between interviews for local TV and sound check before hitting the stage at Kelowna's Prospera Place, as part of Brad Paisley's Kraft sponsored tour.
nMCreative: Hi Brett, thanks for taking time out of your busy schedule to talk to us.
Brett Kissel: Thanks so much for thinking of me and wanting to interview me!
nMC: the last time we saw you play (our first time seeing you), was at the Barking Parrot pub in Penticton with One More Girl.. good little venue, very up close and personal and now you're playing an arena to a sold out crowd each night with Brad Paisley! How's the tour going so far?
BK: I'm loving every minute of it. I'm learning a lot  – tonight is our third show and its been killer every night so far. We're getting into the groove and fans have been amazing so far.
nMC: you've been very busy the last 8 months! Summer festivals, CCMA's, killer song on the radio – you're non stop busy.. it's like you've blown up – what do you attribute that to?
BK: I've been very lucky to have such a great response from fans, and radio and festivals.. as soon as 3, 2, 1 came on the radio i think thats what really blew things up for me. Started with a Song was special, and a great intro song. Raise Your Glass was a great party song but 3, 2, 1 people went nuts, and I loved it it was great.
nMC:  3, 2, 1 was very different.. and the video was quite dark in subject matter; not like anything Country music has seen in quite awhile. You took quite a chance with the song but people responded.
BK: The song was very special because it was so different. The video and song worked in tandem together as a 1, 2 punch.
nMC: The video blew everyone away – how did you come up with the idea?
BK: Other than Garth Brooks The Thunder Rolls…  Shaun Silva was our director. He did The Thunder Rolls. He did The Highway Don't Care for Tim McGraw. He only does videos that are unique, interesting and different. He pitched us the idea that was so wild and different from everyone else's that we had to go with it. We were worried it was too wild and out there, and did get some negative feedback, but most of it was positive.
nMC: and you won the CMT Video of the Year Award!
BK: yes (smiles).. so it looks like we made the right decision.
nMC: so with all the successes of the last 8 months, one of our readers Michelle had a question for you – how do you stay so humble when everything seems to be going so well in your career? 
BK: I have a great support system of friends and family that help me keep things in perspective, as do my band mates. These are th guys that don't care that i'm a country singer. They just care that I'm an Edmonton Oilers fan and that I come out for a drink with them sometimes. And that's really special that we don't have to sit and talk music. The thing is that some of my friends have changed – now that they see me on TV or come to a concert and see me on the big stage, they think I'm different, and they treat me differently.
Then comes my mother and my grandfather.. they're tough on me. They really are. My grandfather may come to a show like tonight and ask why I'm playing rock and roll, and why I have to be so loud and jump around on the stage – and he's partly kidding .. but even when I come home, to my grandpa I'm no country star on the farm. That's just a fact. And that's great.
nMC: hard to be a star when you're slinging cow pies
BK: laughs – yes. And you have to wake up early and put on coveralls and have coffee at 6:30 in the morning and run out and chase cows. We live a very unique lifestyle, but a very good lifestyle. I get to play on this incredible stage to a sold out crowd.. I'm very blessed, I feel very lucky.
nMC: we have another fan question – how do you resist temptation out on the road?
BK: smiling – I don't resist temptation. Whenever I"m tempted, I get to have as much fun as I want as my wife Cecilia is with me. Any temptation I have.. even when it comes to drinking and partying etc,  I'm 24. I try to be mature but at the same time I don't mind having a couple of drinks after the show with the guys, or with the fans at an after party, its exactly what I'm supposed to do (at my age). But on a serious note, my wife and I knew this business was going to be tough on a relationship. It has been for so many people ahead of us and will be for so many people after us. But we knew that for us, it was better when we are together. It's tough to have a relationship over Skype and we knew that by the end of the first year. So Cecilia and I made a lot of changes and sacrifices in our personal life and that allowed her to come out on the road with us. We have a converted suite in the bus and our dog Charlie rides with us as well.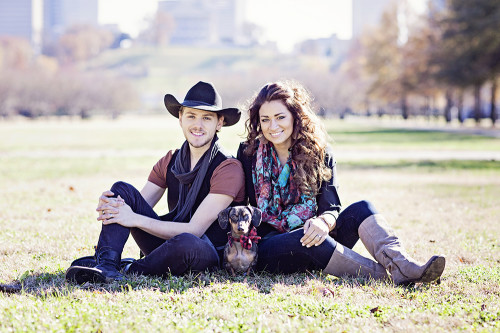 nMC: and Cecilia and Charlie have their own Twitter accounts too and tweet insider Brett Kissel updates!
BK: laughing – yes!
nMC: so what do you hope for 2015?
BK: Truthfully more of the same. If I was busy in 2014 (and he was!) I want to be super busy in 2015. And of course a new album.
nMC: New album – nice! We look forward to hearing more from you! Thanks so much for your time Brett, good luck tonight.
BK: Thanks very much for talking with me. Hope you enjoy the show!
Many thanks to Brett and his team for the time they gave us. Show review up later today. We'll come back and post a link.
©nightMair Creative.com
all rights reserved