It's been my great pleasure to interview CCMA and Juno Award winning Canadian Country star  Aaron Pritchett a few times over the years – about his new album, In the Driver's Seat, or about a new tour etc, but today we sat down so that I could finally just talk to him about him! So many questions, so many things I've wanted to know about the man himself!
Most of us familiar with Aaron's sudden rocket to fame know that he started out by winning a talent contest, and worked at Roosters, but did you know he sang Karaoke ? And that he he says he has a "the most generic face in the world?" Read on! (we decided to highlight this article by using all Aaron's own photos from his Twitter account! )
Did you always know you wanted to be a singer or entertainer?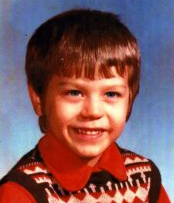 "When I was a kid I was always the class clown, always entertaining people so thought I would be an actor, not a singer, and a Country singer to boot! But I ALWAYS knew I would be an entertainer since I was about 3 or 4. Hockey was my first love though! If I could have been a pro hockey player, I would have been!"
How did you rise to the top so quickly?
"In 1990 I tried Karaoke and got such a good response – they wanted to hear more. I enjoyed it so much I knew I wanted to sing, so I entered the Talent Search in 1993 and did very well, which put me into the Canadian Finals as the BC Rep  – and did terrible, didn't even place actually! But.. I met some people who did dinner comedy theater and they asked if I wanted to audition for their show. I got the part as the lead singer and over the three years I was there, ended up becoming the lead actor as well, and I even danced, believe it or not! I was terrible at the dancing but it was fun – and part of the comedy."
"In meantime I was DJ-ing at Gabby's a little and playing the Sunday Night Jam. In 1996 I was offered a job at Roosters as a DJ and was there till 2004, even well after having songs on the radio and videos on the TV (working musician). I was known as a singing DJ at first because I had a bit of a band and we did Beach Sundays every week. It was nuts – the bar was packed every Sunday with lineups to get in."
So you had something, you were becoming a local celebrity!
(Laughs) The first time I knew I was getting known was Christmas 1999. I went to the local Greyhound for a package and the Greyhound guy recognized me and in this lineup of about 30 people he pointed me out and said, "hey you're Aaron Pritchett, I go to Roosters all the time on Sunday, come on up and I'll find your stuff." So I went up and he found my packages. I was like, wow, that's the first time I've ever had preferential treatment (and the only time haha), so I got him into the club on Sundays and he made me priority for anything I needed to pick up, it was pretty cool! "
"From there, 2001 I won Project Discovery, a Canada Wide talent search. I won the big prize – got to record a single and shoot a video, and won 10,000 as well. The people I was working with at the time, we all decided to put the money toward recording Consider This in the studio instead of just splitting the money amongst the band members. The rest is pretty much history."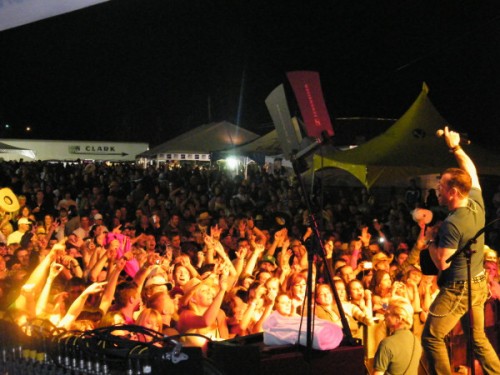 "With the Project Discovery, there were 10 of us from across the country, and it was in Calgary.. the most support any Rep had was about 10 supporters there ie family, friends etc… we had over 300 supporters show up from BC. The fans chartered a plane  and a bus to come see us. It was nuts! The Tuesday after I won, was 911 and we got stuck with no flight home and not being able to rent a car so we called up some friends who had already headed back to Vancouver, and they came back to Calgary to pick us up and drive back to Vancouver again. It was pretty cool. "
"The support I've had goes way back, not just supported by fans because I have songs on the radio, but because I really know how to make friends, and how to entertain people."
Why do you think people support you so much?
"I think I'm relate-able. I think I make everything relate-able. Whether I'm doing a show or having a conversation with someone, I don't make them feel out of place, or weird, or awkward. I always try to make them feel good; I think that's really what it is. If I'm having a conversation with someone off stage or talking to them through a microphone I just try to make them feel comfortable and like their having a ton of fun. I've actually broken up fights, in the crowd from talking on stage.. not like making a big deal out of it but just 'we're all here to get along and have fun' and its helped break up anything that could have happened because its relate-able."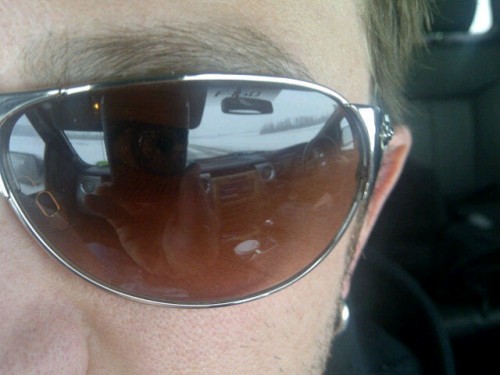 I also think you see things from the stage that other performers might not.
"I see everything. I try to connect with everybody – if I can see you, I'm looking at you at some point in the show. Whether its a theater of 1500 people – I'm looking up in the balconies and try to get to everybody… I spread myself a little thin sometimes in real life and sometimes on stage, but it works out in the end. I don't lose anything from it I've always gained.. that's not going to change."
Do you find that the distance from artist to fan has shrunk due to social media and internet? And is it a good thing bringing the artists off the pedestal or detrimental to the mystery of it all? 
"A few things – I think its good that the gap is closer.. again its about relate-ability – with me on twitter mostly, I like the fact that I can talk to people on Twitter and they're excited that I'm talking to them – but I also talk to them like a normal human being, which shocks a lot of people – but there is also that thing where  I also want to keep my distance, I want to keep that air of mystery!  I want to keep them thinking – guessing to some degree; where is he what's he doing today? Is he writing a new song? Is he creating the next tour? etc – I also want to have that ability to talk to them, have a conversation with them, and make them feel special because I've always said this and its not a B.S. line its true – without the fans none of us have a career."
There's a very fine line too if you lose the mystery – you lose what brought them to you as a fan.
"It really bugs me to see artists that don't want to be involved in social media – because ultimately – what it might come down to eventually is,  people like myself who do it because we want to  – the ones that don't do it – are the ones who are going to suffer in the long run. I don't want to see on someone's Twitter 'hey you can have 5% off band shirts if you RT me." I don't look at Twitter as business thing necessarily, unless I'm doing a show or things like that – I look at it as having a conversation with friends in a group situation whenever I can possible, and then letting them know about some of the things I'm doing in my career as well."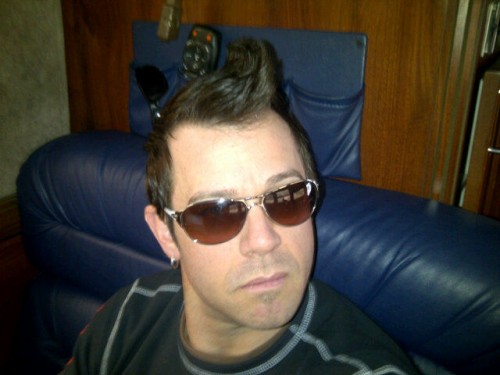 Why do you think some artists won't delve into social media or connecting with fans personally?
"Sometimes its a fear of the unknown, as to why some artists don't do social media  – not wanting to do it wrong or just not knowing what to give the fans. I've found a way to make it Twitter work for me – in my career and for myself personally. Tweeting pictures that people just don't expect to see, and then they laugh. Making a comment about something people are thrown off by and getting their attention and having them tweet me back. I find ways to keep it fun and interesting."
Considering how down to earth and personable you are at shows and online, do people freak out when they see you unexpectedly – do people recognize you on the street if they see you? Would they recognize you in a baseball hat rather than your cowboy hat?
"People definitely recognize me more with the cowboy hat, but they also know me with a baseball hat or even a toque. Depends on the city and the circumstances actually. I can walk somewhere in PEI and people recognize me because of videos and from live shows, but I was surprised to be recognized in Toronto and Montreal as their not a big 'country' centers."
How are you perceived or accepted in your home town? Do they mob you in the grocery store, or do they ignore you? U2 are mostly ignored in their home town as its 'just' Bono and Edge, etc.
"It's pretty normal. Most people have met me as I don't seclude myself, so they're just like, 'yeah that's Aaron' or just say hi in passing, etc. It's not usually a big deal. Some of the younger people in the community get a little excited, I've had a few freak out, and sometimes I play around with that. Two girls one day in the grocery store stopped me and one said, 'My friend say's you're Aaron Pritchett, are you Aaron Pritchett" and I said no – and she goes 'I told her, I told her (laughs)"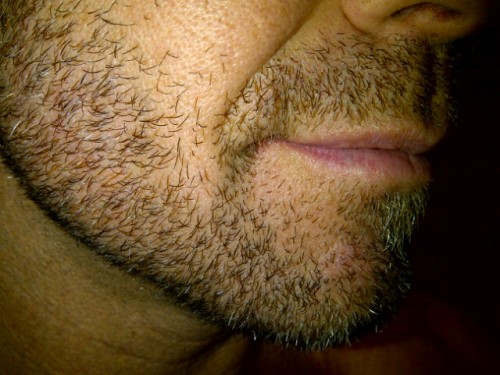 "I have a lot of people come up and think its me, but I also have for some stupid reason the probably most generic face in the world. I've had it since I was a kid and I've had it lately too – 'is your cousin Steve so and so from Ontario? Man you look just like him!' I've gotten that since I was 10 yrs old. I used to play hockey with a kid named Ashley when I was kid, we were the same team, same height and I didn't think we looked anything alike, but I'd walk down the street and people would be calling me Ashley, Ashley… some people also say I look a lot like Aaron Hill the baseball player when I wear a baseball hat. I sometimes get into conversation with whomever, about whatever, and when I finally tell them who I am, they go 'oh you're that Hold My Beer guy!' and I don't mind that."
Speaking of Hold My Beer, you won a CCMA for that song in 2007 – Songwriter of the Year – what other CCMA's have you won?
hmm, in 2004 I won a CCMA for Independent Male Artist of the Year for New Frontier, and also a CCMA for Independent Single of the Year for New Frontier. 2007 was the second to last year they had the 'independent' category.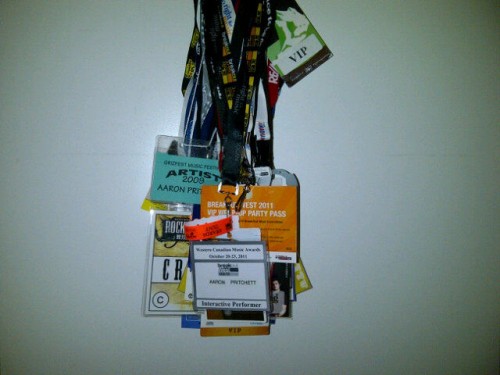 I remember seeing you at the Juno weekend in 2009, but aren't sure what you were nominated for that year? Or other years? And I remember a few BCCMA Awards in there too.
The Junos have Country Recording of the Year and I was nominated for one in 2006 and again in 2009. Just being nominated for a Juno was an honor. It was also an honor to win Fan Choice Award at the 2008 BCCMA's.
I have a feeling that no matter what the awards are, its still about the fans. I actually have a few questions that fans Tweeted me to ask you if you're up for them.
(Laughing) yeah, no, yeah sure.
From @WuzUpEH – Paula wants to know "Aaron: where do you go to most often to clear your mind and write a song? In other words where's your happy place." and @Blymers72 Brenda wants to know if you would ever do a duet with your son JP. @cindygiesbrecht wants to know do you have any artists you've worked with that you really enjoyed working with.
"For Paula – (laughing) The bathroom! Tell her I'm joking! (more laughter). Basically my happy place, the best place to write for me, is anywhere that I can take my guitar. I don't have a specific place, just somewhere quiet that inspires me."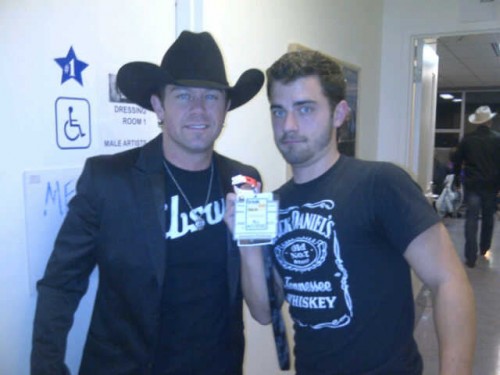 "Brenda – Absolutely I would do a song with@jpfaberdrive! I told him he should sing country!"
"Cindy – Oh yeah there's tons! Especially recently with the new record. Someone like *Shaun Verrault is somebody I've looked up to for a long long time and to be able to write with him was a kinda like a thrill. He's such a super nice guy, just a cool laid back guy. Obviously having Daniel Adair play drums and he turned out to be a wicked guy as well, he's one quarter of Nickelback –  I mean who wouldn't be impressed by that – he's very down to earth and very much into his family – just a super nice guy to work with. Dallas Smith is another person I've really enjoyed working around –we did a few live shows at the same time and became friends at the Emerson Drive Golf Classic – I'm loving what he's doing with his new Country album, amazing voice. There are many really great people I've had a chance to work with or near in the last 10 years."
*(Shaun co-wrote 'You and Me' and Daniel Adair plays drums on Aaron's 'In the Driver's Seat' album)
So what are your hopes for the future?
I'd like to keep doing this as long as I can. I have a few other things up my sleeve at present – can't say too much yet but exciting things coming with a new artist, and writing some new songs for myself. I'd like to hear Hold My Beer in the bars when I'm 60 and seeing the kids still singing it. And I want to keep meeting fans after my shows, keep talking to them on Twitter and just keep appreciating you all.